21 Jun 2022
11 Dubai restaurants get prestigious Michelin Stars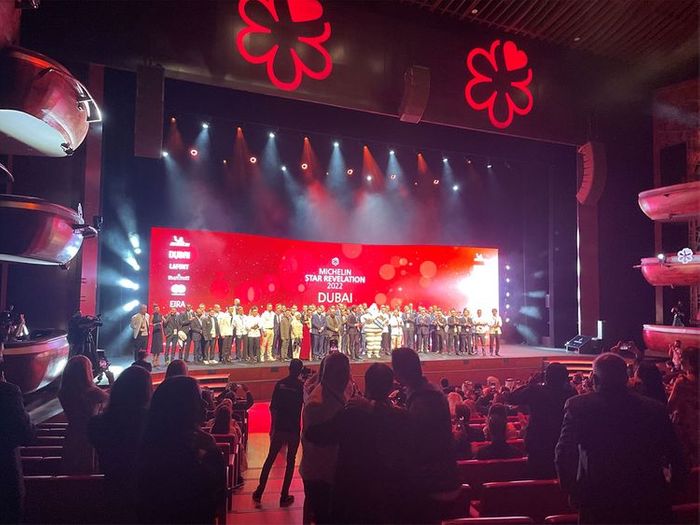 It's official. Dubai has just got its own red Michelin Guide, with 69 restaurants being included in the guide and a total of 13 stars and one Green star among them.
Nine places won one star each, and two restaurants received two stars.
The Michelin Green Star also made its entry to Dubai. This star puts the spotlight on a sustainable approach to gastronomy and Lowe was the one restaurant awarded the coveted title.
The stars were announced by the prestigious culinary group at a chef-studded event at Dubai Opera on Tuesday morning.
A selection of restaurants in the value-for-money Bib Gourmand section was also revealed, as well as Michelin special awards, which highlight diversity and uniqueness, including the Sommelier Award for Danijela Tesic of Ossiano, the Welcome & Service award for the Bait Maryam team and the Young Chef Award for Solemann Haddad of Moonrise.
The shining stars
Al Muntaha, 11 Woodfire, Armani/Ristorante, Hakkasan, Hoseki, Ossiano, Tasca by Jose Avillez, Torno Subito and Tresind Studio have been awarded one star each, which denotes high-quality cooking.
Il Ristorante - Niko Romito and Stay by Yannick Alleno got two stars, which stands for excellent cooking.
No restaurant received a rare three Michelin stars, for cuisine that is categorised by the guide as exceptional.
The Dubai edition, which is digital-only, was confirmed in March after years of speculation — and even frustration — as to if and when Michelin would bring a guide to our shores. In fact chef Gregoire Berger of Ossiano was one of the most vocal advocates for a local guide.
"The Michelin Guide coming to town is the collective achievement of pushing standards and boundaries in the region, and something many of us have been working on for some years by raising the bar, driving sustainability and seasonality, and developing our craft and personality," Berger told The National in March.
"The arrival of Michelin will ultimately set higher standards for the city, bringing with it many global talents and finally giving Dubai the position it deserves on the global culinary scene. It's finally due."
Gwendal Poullennec, international director of Michelin Guides, said the introduction of Dubai to the Michelin family is a "historic moment" and that the inspectors were so impressed by its cosmopolitan culinary offering that they selected a total of 69 restaurants.
Read the full article here: https://www.thenationalnews.com/lifestyle/food/2022/06/21/michelin-starred-restaurants-in-dubai-11-places-awarded-stars/